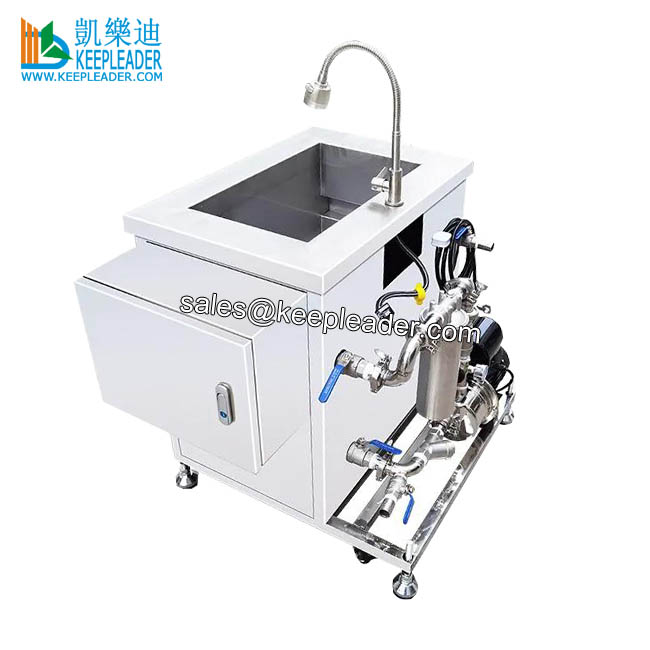 Ultra Wave Dishwasher Ultrasonic Dish Cleaner Cleaning Machine is 28khz, single tank, all in one machine for dish,kitchen utensil soaking cleaner equipped ultrasonic explosive jetting, its dimension is customized for each
Machine description

---
Ultrasonic cleaner Appliance

Ultrasonic cleaner is widely used in magnetic industry, car maintenance ,textile industry mechanical processing, electroplating, food and beverage industries, cleaning precision parts, glasses, electronic components, circuit boards, semiconductors, special high-precision parts and so on.

specification

We can design and manufactures the ultrasonic cleaner according to client's requirements

Style

Volume (L)

inside dimension(MM)

Outside dimension(MM)

frequency(KHZ)

power(W)

KL-0.7L

0.7

150*86*65

175*110*170

40

50

KL-1.3L

1.3

152*140*65

180*168*215

40

50

KL-2L

2

152*140*100

180*168*215

40

50

KL-2.6L

2.6

152*140*150

180*168*265

40

50

KL-3L

3

240*140*100

265*165*265

40

100

KL-4.5L

4.5

240*140*150

265*165*315

40

100

KL-6.5L

6.5

302*152*150

330*180*315

40/28

150

KL-8L

8

325*265*100

353*293*265

40/28

200

KL-12L

12

325*265*150

353*293*315

40/28

200

KLH-8L

8

325*265*100

353*293*265

40/28

300

KLH-12L

12

325*265*150

353*293*315

40/28

300

KL-13L

13

310*180*250

410*280*450

40/28

200

KL-16L

16

310*210*250

410*310*450

40/28

300

KL-17L

17

310*210*270

420*310*520

40/28

300

KL-24L

24

330*250*300

450*370*550

40/28

400

KL-36L

36

400*300*300

520*420*550

40/28

600

KL-38L

38

400*300*320

520*420*630

40/28

600

KL-70L

70

500*350*400

660*510*700

40/28

1000

KL-80L

80

500*400*400

600*560*700

40/28

1200

KL-84L

84

500*400*420

660*560*670

40/28

1200
please contact KEEPLEADER for more inform and tech assistance for Ultra Wave Dishwasher Ultrasonic Dish Cleaner Cleaning Machine
Illustration of Oil Skimmer
---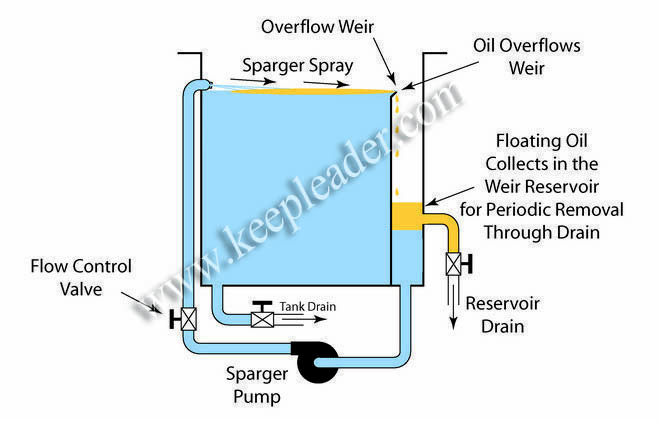 Ultra Wave Dishwasher Ultrasonic Dish Cleaner Cleaning Machine has filtering circulation system to avoid secondary contamination

Product uses
---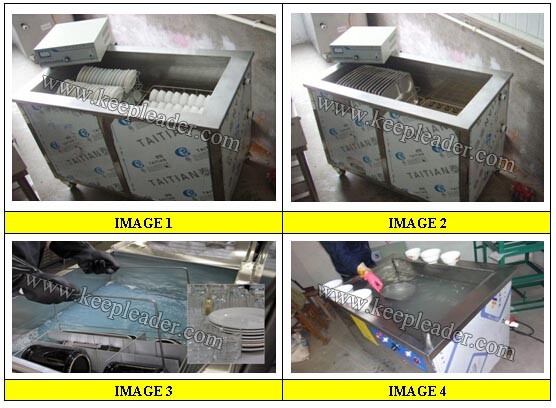 Ultra Wave Dishwasher Ultrasonic Dish Cleaner Cleaning Machine is small size of ultrasonic bath, which can clean kitchenware that are constructed with metals, ceramics, rubber, glass, wood and plastic, these items include dishes, utensils, appliances, cookware, and tool used in the preparation and serving of food, ultrasonic bath acts as an auxiliary tool in kitchen shop cleaning with salient advances following lists
1st: get rid of germs and bacteria: ultrasonic cleaning machine not only can clean germs and bacteria, which is usually invisible,also cannot remove by hand scrubbing process, but also can clean other pathogens that can threaten your health, furthermore, ultrasonic agitation liquid in bath generate vacuum voids called ultrasonic cavitation that form and grow, and final implode to burst jetting energy to dislodge the stubborn contamination, particularly, penetrate into the pathway, crevices and blind hole to decontaminate inaccessible area
2nd:Cleans at microscopic level:ultrasonic cleaning machine cleans the most hidden parts and hardest to reach areas of the kitchenware, the Ultra Wave Dishwasher Ultrasonic Dish Cleaner Cleaning Machine get rid of germs and bacteria, and dirt from the nook and cranny of tools to give a deep cleaning
3rd: Exert combined cleaning process: the the user can put multiple kitchenware such as dishes,knives, forms and spoons in the ultrasonic tank, wash and clean them at the same time
4th:Saves time: ultrasonic cleaning machine can achieve cleaning job without in-sight, you are fr to do something else while washing your kitchenware
5th: saves water and energy:ultrasonic cleaning machine can save more water as most of the machines 40 time less water
6th:Offer your kitchenware a gentle wash: hand cleaning often causes avoidable scratch on the surface of kitchenware,especially for delicate tools, fortunately, ultrasonic cleaning adopts principles of implosive bubbles to burst the hidden contamination without eroding or damaging your cookware, and moreover, it is safe for your cooking tools
7th: Safer for the environment and user: unlike hand cleaning, must use detergent or soaps, ultrasonic cleaning solution is environmental friendly, the kitchen tools won't have not come in contact with chemicals,additionally, ultrasonic cleaning is effective for washing toughest of dirt without heavily replying on the cleaning fluid effectiveness, it also provide a more consistent result
FRQ
---
Troubleshooting of ultrasonic cleaning process
How to use ultrasonic cleaning machine correctly and efficiently, there are many professional suggestions collected from KEEPLEADER'S training course, herein, hope this post can acknowledge more companies, who are using ultrasonic cleaning in their production process
01: In first shift working, our ultrasonic cleaning machine works not so expected, why is this so?
Ans: everyone clearly knows that ultrasonic cleaning must use aqueous media or chemical solution, this possibility of dissolved gases hided, in ultrasonic process, as high-frequency sound waves travel through aqueous media, areas of compression and rarefaction occur, during rarefaction, there is negative pressure, with enough loudness (sufficient amplitude), cavitation, voids or tear in the cleaning liquid occur, these are sometimes referred as cavitation or vacuum bubbles, when the bubbles collapse or implode during compression, the energy (pressure and localized temperature) associated with this collapse is responsible for the cleaning power of ultrasonic
In the first shift cleaning, it is a near certainty that the aqueous media contains dissolved gases, this means that the ultrasonic bubbles formed during rarefaction contain dissolved gases rather that a near-vacuum, the bubbles are "cushy", so they do not collapse efficiency, turning on the ultrasonic for a few minutes prior to processing a product releases the dissolved gases, if the ultrasonic machines have not been used for a whole, you should degas cleaning chemistries, or if fresh cleaning chemistry has been added, if in doubt, then degas
02: We have a small unheated ultrasonic tank, as the day goes on, cleaning efficiency keeps getting better, is this all due to degassing?
Ans: Most of the improvement is probably due to temperature effects, in fact, as the day progresses, the ultrasonic transducers generate heat, causing the temperature in the ultrasonic tank to increase, unless a temperature-controlled system is used, as the temperature increase, ultrasonic cleaning performance tents to improve, up to a point, the maximum performance temperature depends on the cleaning chemistry, for water, the maximum temperature about 55 degree, as the temperature increase, the viscosity of cleaning chemistry decreases, so cavitation becomes increasing effect, in addition, as the temperature increases, cleaning effectiveness tents to increase, whether or not ultrasonic are used
03: Why does ultrasonic performance decline later in the day?
Ans: When the liquid reach its boiling point caused by heating and inherent ultrasonic produced, for reason related to the degassing issue, the higher temperature, the higher the vapor pressure of the liquid, so the cavitation bubbles has more vapor, the bubbles become "cushy" and they do not implode effectively
04: The effectiveness of our ultrasonic cleaning line seems to vary throughout the day, why do we notice the worst problems when our throughout is highest?
Ans: The tank size usually design its average cleaning volume, if the cleaning basket is overloaded, the ultrasonic energy cannot reach any corner because of ultrasonic intensity is dampened during travelling ,
05: How to choose correct ultrasonic frequency?
Ans: For small components and precision parts, KEEPLEADER suggest 40khg or bigger, the higher frequency, the bubbles is smaller, which can have good penetrating performance into tiny blind holds, recesses, cracks, and gentle ultrasonic rubbing force, can well protect the substrate of cleaning parts, but the smaller bubbles cannot contain higher temperature and pressure, so, for big size parts or heavy grease, 28khz play a good cleaning role, up to one point, this depends on the your current and anticipated production line and process requirements
06: Our parts have heavy grease, we toss parts into the ultrasonic tank, leave them there for hours, How long do we need to clean them?
Ans: Ultrasonic cleaning time usually set in minutes, 3 to 5 minutes is normal, but, tank normally heated or chemical added to reduce the water surface tension and improve the bubble forming, many factories also using spraying process to speed up the cleaning, anyhow, the cleaning time is not hours, if have somehow, the chemical added might not be optimal, you need to adjust the change it, or ultrasonic transducer might be malfunctioning, the placement of the transducer or power density might be incorrect for the task at hand, the parts might not be suspended properly, so that parts are shadowed
07: If plastic tank, basket or fixture is ok for ultrasonic cleaning system?
Usually, no plastic in ultrasonic cleaning should be better, as mentioned previous, ultrasonic contains pressure and hot energy in vacuum bubbles, which implode when touching the substrate of cleaning parts, plastic tank, basket or fixture can soften and dampen the suction force, so, stainless steel, metal basket is recommended, we notice that some companies toss their parts into the plastic tank with ultrasonic vibrations in testing and erroneously concludes that their tank is workable, so not that, KEEPLEADER also advise you to consider your mesh size, try to use big mesh size in solid stance
08: Can we use acetone in ultrasonic cleaning for small-scale?
Inflammable solvent is strongly forbidden in ultrasonic cleaning, acetone is over its flash point at ambient temperature, ultrasonic is ignition source, most of ultrasonic cleaning machine is designed for organic, non-inflammable solvent cleaning
09: Conclusions
Efficient ultrasonic cleaning depends on its cleaning quality and productivity, for ordering, you need to evaluate what ultrasonic cleaning system can do, even the most important is what cannot do, take a step back, look at your whole cleaning line, where need to be improved and changed
FRQ

---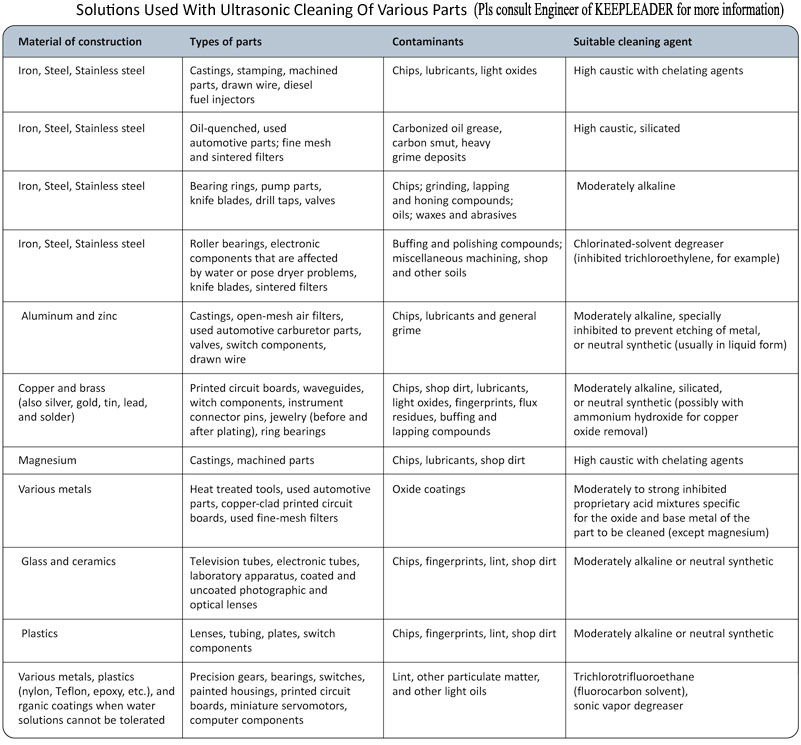 Contact Us
---
Our company aim to provide world wide brand of Ultra Wave Dishwasher Ultrasonic Dish Cleaner Cleaning Machine, it is our eternal pursuit for exchange our sincerity, hard work and sweat for customer satisfaction, welcome your inquires, we, keepleader firmly grasps the opportunity of rapid economic development, adhere to the business philosophy of forging ahead, surpassing" respecting talents, focusing on products and pursuing higher goals based on unremitting efforts
☺ Attn: Ms Helen
✉ E-mail:sales@keepleader.com
☎ Cellphone:+8613590415784 (Wechat/Whatsapp)
☎ Tel: +86755 84190358
☞ Website: www.hfwelds.com / www.keepleader.com