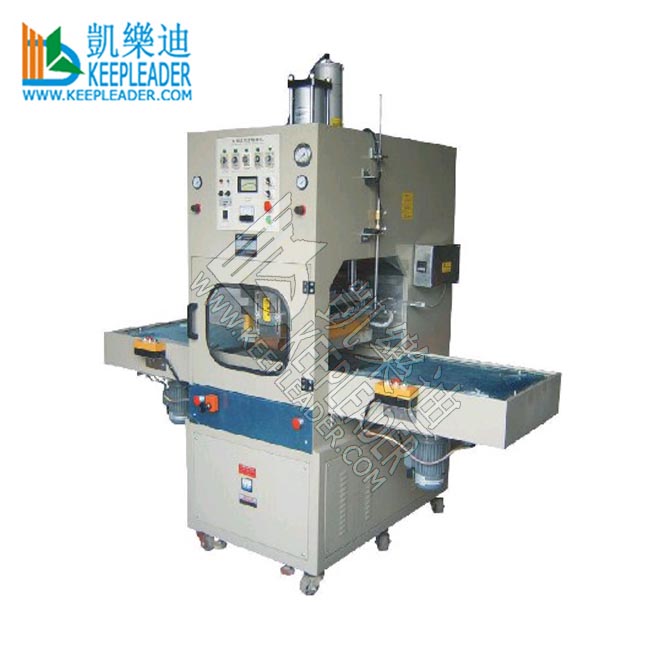 PETG Blister Package Sealing High Frequency Welding Machine takes utmost configurations of #1: vacuum tubes, the HF power output is stable and reliable;#2:sensitive anti-spark over current protection, which can effective cut off due to damage to host large current output,suppress sparks;#3: has a frequency stabilizer and high frequency shielding, the high frequency interference to minimum;#4:infinitely adjustable head stroke depth, special mechanical pedal mechanism maximum pressure up to 1000kgs;#5:according to processing needs, choose pneumatic pressure way to reduce the intensity of work, enhance the quality of voltage products;#6:Step-less temperature heating system, make work more efficient;#7:the four horizontal adjustment, easy adjustable die to save time;#8:automatic over-current protection system, increase the service life of vacuum tubes, protect the mold
Machine Description
---
Mainly Application
PETG Blister Package Sealing High Frequency Welding Machine is Applied for double sides blister packaging for APET,PETG,GAG,PVC, welding and cutting of soft crease box making, toothbrush blister packaging, mobile clearner, belt, watchband, featured in automatic welding and cutting of blister packaging and paper card.
Character
Wide using in environmental protection plastic packing ,toothbrush packing,
environmental production dress-glue products with APET,PETG,GAG materials,
equally can process any materials needing welding and cutting simultaneously.
double-way automatic slipway,back-forth or continous delivering the mould,
accurate-orientation, error±20um.
Adjustable cutting pressure 1-50 ton,stable and realible in output,firm in structure.
Adopting high sensitive anti-sparkle device NL5557 to avoid damaging the mould efficiency.
Operation mode:oil+pneumatic or pure-pneumatic.
Technique Specifications
| | |
| --- | --- |
| Model | KLR-5000W-SC |
| Power | 5000W |
| Voltage | 220V/380V 50/60HZ |
| Frequency | 27.12MHZ |
| Oscillation tube | 7T85RB |
| Max pressure | 5T/10T |
| Gap between electrodes | 200MM |
| The moving distance of active horn | 150MM |
| Size of upper electrode | 300*400 |
| Size of lowwer electrode | 300*400 |
| Range of tempreture | 30~200°C Adjustable |
| Welding time | 0~10S Adjustable |
| Productivity | Equal or less 5000times/8h |
| Net weight | 1T |
| Overall dimension | 1920*1200*2060 |
Standard equipment:
| | | |
| --- | --- | --- |
| Name | Origin | Brand |
| Air driven components | Taiwan | Airtac |
| AC contactor | Korean | LG |
| Relay | Japan | Omron |
| Electron Tube | Japan | Toshiba |
| Time controller | Taiwan | CKC |
Product uses
---
PETG Blister Package Sealing High Frequency Welding Machine performs not only in plastic blister packaging but also in thermoplastic forming, embossing, stamping and sealing. Such as APET,PETG,GAG environmentally friendly materials double side blister packaging and sealing, blister+cardboard packaging, toothbrush sealed packaging, EVA leather cloth, leather, OPP, PU material welding and fusing, because of pneumatic driven pressed head, the machine can achieve welding and cutting in one cycle procedure
Contact Us
---
KEEPLEADER concentrates on highest quality,on-time delivery,professional technology support, customer-oriented service and affordable price, we have professional engineer for designing first class products, experienced technicians for installing and testing machine, and considerate service personal for executing bespoke construction, PETG Blister Package Sealing High Frequency Welding Machine classifies universal model of two auto slipway at two side with interlacing work,the machine also can construct rotary table in manual or automatic driven,auto robotic arm also can mount as a ancillary device for automatic loading and unloading to integrate with your production line, please contact us for one-stop service