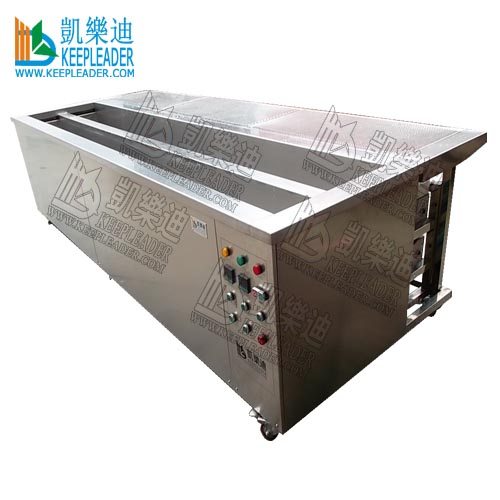 Product description
---
Mainly parameter of window blind ultrasonic cleaning machine
| | |
| --- | --- |
| Model | KLE-3000-BF |
| Cleaning tub size | 3000*250*500mm |
| Rinsing tub Size | 2000*250*500mm |
| Ultrasonic power | 6kw |
| Ultrasonic frequency | 40khz or 80khz |
| Heating power | 6kw |
| Power supply | 380v/50hz |
| Net weight | 400kgs |
| Overall size | 3200*900*900mm |
| Cycling and filtering system | Build in |
| Drying stand or dripping tray | Build in |
Note: The parameter herein stated is manually measured, the actual machine has possibility in little difference, if have crucial demand in its application, please double check with our sales, only paper confirmed will be regarded as contracted obligation
What considerations in process of window blind cleaning?
Window blinds are everywhere, from homes and office buildings to restaurants, hospitals, universities, military bases. Boats and more, practically any structure that has windows, also have window blinds, the reason is simple, in addition to being beautiful, window blinds can also be a very expensive solution for someone who need to cover their windows, however, there is a down-side, window blinds get very dirty, over time, dirty build-up degrades and damages blinds, this creates a costly problem as the blind will need to be replaced, additionally, window blinds can get so dirty that they don't just look ugly, they can become a breeding ground for bacteria and allergens, in commercial settings, dirty blinds can be a significant health hazard that can lead to employee absenteeism, infections and other serious problems, such problems not only reduce productivity, they can be a serious liability
Despite their popularity and the potential risks, most people believe that there is only one, time-tested way to clean window blinds by hand, "time-tested" is a waste of time and money, must people try to clean their blinds by hand, they'll scrub them in the bathtub, hose them down or maybe even use some gadget or chemical advertised on TV, unfortunately, the results are always the same
01: its is very difficult, if not impossible, to get blinds as clean as desired
02: blinds quickly become dirty again as static-electricity from cleaning actually attracts dust, dirty and other invisible contamination
03: cleaning blinds by hand is back-breaking, labor-intensive and time consuming work
04: blinds are very easy to break during cleaning
Introducing the method of ultrasonic cleaning at KEEPLEADER™
KEEPLEADER™ Ultrasonic cleaning put an end to those practices and problems more than ten years ago when KEEPLEADER™ invested the window blind ultrasonic cleaning machine,, it allows anyone to clean window blinds quickly, safely and absolutely minimizes the risk of damaging blinds during cleaning
Endless potential
How big is the ultrasonic blind cleaning business? Take a look at the following examples, these could be your customers
Each building can have several hundred to several thousand blinds, but this is only the start, look into cleaning everything from light fixtures to computers and more
Not only can restaurants have many dozens of blinds, in order to maintain a safe dining environment and to provide a pleasant dining experience (in addition to meeting local health department codes), the opportunity to clean other items, from filters and oven burners to pots and pan, baking trays and silk plants, is tremendous
As you can see, the market is massive, take a look around your area and your will see window blinds everywhere, with hundreds of millions of blinds sold each year, and the popularity of blinds continuing to grow, ultrasonic blind cleaning machine is a great business, KEEPLEADER™ can impel your business by our art-craft-like window blind ultrasonic cleaning machine
What kinds of window blinds can be cleaned?
With KEEPLEADER™ Ultrasonic, you can clean virtually any type of window blind on the market today, we should know, over the years we've cleaned every type of window blind, there is including: wood blinds, vinyl blinds, venetian blinds, vertical blinds, Silhouettes, micro mini blinds, mini blinds, luminettes, roller shades, pleated shades, fabric blinds, privacy curtains, shades, shutters, curtains, draperies
What will ultrasonic window blind cleaning do for you?
As a stand-along operation, window blind ultrasonic cleaning is an in-demand service that is very profitable, it also offers the opportunity to expand and clean other items such as light lenses, silk plants, air vents, computers and more
As an add-on to your current business, window blind ultrasonic cleaning creates another, reliable revenue stream
Regardless of which window blind ultrasonic cleaning machine you choose, KEEPLEADER™ is confident that you'll experience amazing success
Buying guides
---
window blinds ultrasonic cleaning machine
This section will provide answers to common questions about ultrasonic blind cleaning
Question: How fast can a KEEPLEADER™ window blinds ultrasonic cleaning machine clean venetian blinds?
Answer: KEEPLEADER™ top-of-the-line ultrasonic blinds cleaning machine can clean, rinse and dry a typical venetian blinds in 3 minutes or less, ready to re-hang, without ever opening, depending on how contaminated the blind is, our less costly basic window blinds ultrasonic cleaning machine can perform the same task in 5 minutes or less, but may require that the blind be opened somewhat, this saves enormous amounts of time when actually cleaning window blinds
Question: How does KEEPLEADER™ allow you to clean a blind in a closed position?
Answer: High frequency ultrasonic have the capability to produce cleaning action that is so precision that it can actually be produced between blind slats, in fact, the 80khz ultrasonic cleaning machine included in KEEPLEADER™ can clean holes that size of human hair, as a result, it is rather easy for KEEPLEADER™ window blinds ultrasonic cleaning machine to clean between stacked blind slats when a blind is closed, the cleaning action is also very evenly distributed, leading to a very even cleaning result.
Question: How much ultrasonic power is included in KEEPLEADER™ Window blinds ultrasonic cleaning machine?
Answer: This depends on the model selected, for example, KEEPLEADER™ has basic model with inner length of cleaning tub 2meters, dual tubs, one tub for dirty cleaning only has ultrasonic power: 2.4kw, the other tub is for rinsing without ultrasonic power, of course, KEEPLEADER™ also can mount ultrasonic vibrators at two tubs, so, for 2meter length model, the total ultrasonic power can reach 4.8kw, for KEEPLEADER™ 2.5meter and 3meter length model also can make to your order, beware of competitors which do not advertise the ultrasonic power in their window blinds ultrasonic cleaning machine, it is very difficult for the average person to determine the ultrasonic power of a wind binds ultrasonic cleaning machine once purchased
Question: Why do KEEPLEADER™ Window blinds ultrasonic cleaning machine cost thousands less than other brands?
Answer: If you have shipped around for a window blinds ultrasonic cleaning machine, and have not yet received a KEEPLEADER™ Pricelist, you are in for a big surprise! KEEPLEADER™ window blinds ultrasonic cleaning machine cost thousands less that competitive brands, this is possible because KEEPLEADER™ is actually the manufacturer of the ultrasonic cleaning machine rather than being an assembler of components purchased from several locations, must sellers of window blinds ultrasonic cleaning machine purchase tanks, ultrasonic components and other items, then assemble the parts to make the complete window blinds ultrasonic cleaning machine, KEEPLEADER™ is perhaps the only one of seller of window blinds ultrasonic cleaning machine which actually manufactures all of the components, this provides several advantages, firstly, since there is no middleman, systems cost less and include more, and, since KEEPLEADER™ manufacture all of the parts, replacement parts and available all the way, KEEPLEADER™ invite anyone around the world to visit KEEPLEADER™ manufacturing facility in Shenzhen City / Neighboring Hong Kong to view KEEPLEADER™ manufacturing operation, and abstain an education on the ultrasonic cleaning process, KEEPLEADER™ can even provide you with just the ultrasonic components should you wish to manufacture your own window blinds ultrasonic cleaning machine
Question: Why do KEEPLEADER™ window blinds ultrasonic cleaning machine all include a fluid heating system?
Answer: When you wash dishes, do you use heated water, or cold water? Hot water dissolves the dirty and grime much faster, while also making the cleaning fluid more active. Yielding much faster and more thorough cleaning results
Question: what else can I clean in a KEEPLEADER™ window blinds ultrasonic cleaning machine?
Answer: Virtually any window covering that can be submerged into a liquid without damage can typically be ultrasonically cleaned, this includes fabric and plastic vertical blinds, duettist, honeycombs, woven woods and others, if you intent to clean larger object for fire restoration work, our window blinds ultrasonic cleaning machine includes removable ultrasonic components which will alloy you to remove the ultrasonic packs from the cleaning tank and place them into a larger tank to clean objects which can not fit into the window blinds ultrasonic cleaning machine, other common items which can be ultrasonically cleaned include light diffusion panels, air conditioning louvers, and others, the ultrasonic cleaning machine used in our line of window blinds cleaning machine is the same as that used on our industrial ultrasonic cleaners, therefore, virtually anything that can be submerged can be ultrasonically cleaned
Question: Does KEEPLEADER™ include marketing advice with its window blinds ultrasonic cleaning machine
Answer: yes, KEEPLEADER™ dose, KEEPLEADER™ provides several publications which are directly related to marketing service oriented business, on top of that, KEEPLEADER™ ultrasonic cleaning machine guide includes advise which has been gathered after over 10 yeas of experience with window blinds cleaning, advise about who to approach, what business to approach, how to sell once you get through the door, pricing your service, how to market, and other important information is included, with the information that KEEPLEADER™ ultrasonic provides , one can easily start a new mini window blinds cleaning business,. Without any prior experience
Question: How can I tell if a window blind cleaning service will be successful in my area?
Answer: individually success will largely be determined by the number of people that are within your marketing area, or area where you are willing to travel to. If you are in a highly rural area, where the next house is two mile away, do not consider window blinds cleaning, a good guideline for the number of people required to support a window blind cleaning business would be approximately 60,000 people, this is based on studies which were originally performed independently back in early years, not much work will be required to pay for the equipment, most window blinds ultrasonic cleaning firms charge an average of USD8 to USD13 per blind, each window blinds will cost you only pennies to clean, as a result, a house with only 10 blinds cleaned once a week will produce enough revenue to pay for the window blinds cleaning machine, anything more that that is pure profit
Question: Are KEEPLEADER™ window blinds ultrasonic cleaning machine portable?
Answer: This depends on the size of the equipment purchase, our 2 meters models have been designed to be portable, any will allow for on-site blind cleaning operations, where the cleaning machine is left at the customer's facility for the duration of contract, this is even more profitable since you use the customer's electricity, water, and other utilities to do your job
Question: Can window blinds ultrasonic cleaning machine damage window blinds
Answer: If the window blinds are very old, and the pain has been oxidized by the sun, damage is possible if you don't inspect and test the window blinds prior to cleaning, KEEPLEADER™ provides you with a method that allows you to test whether or not a venetian blind or other window covering, is subject to damage
Question: what sets KEEPLEADER™ window blinds ultrasonic cleaning machine apart from competitive window blinds ultrasonic cleaning machine?
Answer: The KEEPLEADER™ design has been based upon over 10 year of experience manufacturing such as cleaning machine, KEEPLEADER™ have been manufacturing window blind ultrasonic cleaning machine longer that anyone in China and have designed these cleaning machine to include features and equipment not available on any other cleaning machine, KEEPLEADER™ is using 80khz ultrasonic frequency for fabric blinds cleaning and stacked and closed window blinds cleaning, all of window blinds ultrasonic cleaning machine adopts 304 and 316 stainless steel, no any painted objects are used in tanks, framework, generators and any other critical components, window blinds ultrasonic cleaning machine include more ultrasonic power as well, and, best of all, KEEPLEADER™ will not undersold, and guarantees that KEEPLEADER™ can beat the price of our competitive window blinds ultrasonic cleaning machine, KEEPLEADER™ truly hope that you compare our ultrasonic cleaning machine with others
Question: Can KEEPLEADER™ Window blinds ultrasonic cleaning machine be paid for with monthly payments?
Answer: Yes, but, just for our distributors, or you have ever purchased from KEEPLEADER™
Question: Why do KEEPLEADER™ window blinds ultrasonic cleaning machine include two rinse methods?
Answer: To provide better cleaning results, whenever possible, most competitive blind cleaners include only a tank filled with water into which the window blind is dipped to rise, unfortunately, each time a window blind is transferred to the rinse tank, detergent is also moved into the tank, after a few window blinds, the rising water is completely contaminated with detergent, which leads to spots on the blinds when they dry. No matter what rinse additive, you add, you will need to change in the rinse tanks several times a day, a procedure which wastes time, the basic window blinds ultrasonic cleaning machine will require these fluid changes, since this design does not include the fresh water rinse method unless added as a option, KEEPLEADER™ window blinds ultrasonic cleaning machine include a fresh water rinse that uses fresh water to pay rinse the window blinds, this eliminates detergent spotting and eliminates the need to replace rinse
KEEPLEADER™ systems include a fresh water rinse that uses fresh water to spray rinse the blinds. This eliminates detergent spotting and eliminates the need to replace rinse water. If a fresh water supply is not available, the standard submersion rinse method may be used.
Question: What if something breaks on the KEEPLEADER™ window blinds ultrasonic cleaning machine?
Answer: You will never have to wait very long for parts, and parts are reasonably priced, this is possible since KEEPLEADER™ is the actual manufacturer of the equipment, and keeps all parts in stock for immediate delivery, and. KEEPLEADER™ parts are realistically priced, KEEPLEADER™ ultrasonic generators also power fewer ultrasonic transducers that any other ultrasonic cleaning machine, if one of our ultrasonic generators fails, you will lose only 4" of activity in your cleaning tank, allowing you to continue operations with no downtime, this will become very important if you are in the middle of a large contract, and components fails, all components can be repaired by our customers using standard hand tools
Question: Does KEEPLEADER™ provide training on how to repair window blinds as well as clean them?
Answer: Yes, sources are provided which can provide parts and other materials for repair of window blinds, in many cases, customers wishing to clean a number of window blinds have a few which require repair, this is especially true for schools and other similar institutions
Question: How can I get more information on KEEPLEADER™ window blinds ultrasonic cleaning machine?
Answer: The catalog which is mailed to KEEPLEADER™ potential customers includes an even larger question and answers section, pricing, options and other information which was not included in the homepage, if you are interested in how ultrasonic actually work
Product overview
Ultrasonic cleaning machine
Every ultrasonic cleaning machine features heavy duty, all stainless steel construction, the solid sturdy structure and high tech design make our ultrasonic cleaning machine the best in the business, KEEPLEADER™ manufacture standard cleaning machine and handle ultrasonic cleaning machine in a variety of shapes and sizes, KEEPLEADER™ also design and manufacture customized cleaning machine for unique applications and can provide components to convert or upgrade an existing tank, whether you need a cleaning machine to clean bearings, or ceramics, ophthalmic precision lenses or mechanical manufacturing assemblies, KEEPLEADER™ have a ultrasonic cleaning machine that provides you with results, KEEPLEADER™ precision designed cleaning machine feature the equipment your company requires for simply the best ultrasonic cleaning machine, when you require an ultrasonic parts washing machine that provide your company with results, you need to talk to KEEPLEADER™ sales representative, we will provide our solution for your approval before production, KEEPLEADER™ is the industry leader in the field of ultrasonic cleaning machine featuring the most up to date precision cleaning technology, KEEPLEADER™ sets the standard for manufacturing the highest quality, most powerful, and most efficient ultrasonic cleaning machine available, from automotive fuel injector nozzles to hard drive components, KEEPLEADER™ precision cleaning machine provide you with versatility, convenience and cleanliness levels your business depends on
Ultrasonic generator
Each Ultrasonic generator at KEEPLEADER™ features patented modulation sweep and power intensity control technology, the power intensity control maximizes the cleaning machine's flexibility to clean small delicate items or large items, KEEPLEADER™ generators use solid state circuitry backed by over 10 years of field proven reliability ultrasonic power corporation's ultrasonic generator provide consistent, predictable ultrasonic cleaning power throughout the cleaning tank, this proven design provides a content output power even as the solution temperature or l oad volume increases
Ultrasonic transducers
KEEPLEADER™ vibrators is mounted by glue and screw, which is reliable, and avoid loose or drop after many year normal working, the numbers of vibrators has 28khz, 40khz or higher frequency under request, we also provide extra for spare parts at any emergency use
FRQ
What are ultrasonic waves of ultrasonic cleaning?
Ultrasonic waves are sound waves transmitted above 20khz, or higher that the frequency detectable by humans, sounds waves are created by the vibration of an object, which causes the air molecules around it to vibrate, these vibrations cause our eardrums to vibrate, which the brains then interprets as sound when the original vibration is very fast, so the sound waves, and the pitch of the sound created is too high for the human ear to hear
In the natural world, animals like dolphins and bats are use these ultrasonic waves to communicate, but humans have discovered practical application, the most commonly known is medical ultrasonography although in the last 30 years, some organizations have discovered highly effective, chemical-free cleaning applications and technology, ultrasonic cleaning machines work in a vey similar way to a loud speaker, except the ultrasonic waves travel at a much higher frequency and through water instead of air, a high-frequency electronic generator that creates ultrasonic waves is connected to a diaphragm, a flat or cone-shaped structure similar to the visible cone-shaped portion of a loudspeaker, that generator vibrates the diaphragm at a specific high frequency, usually between 25 and 170khz, inside a specially designed water tank, the ultrasonic waves created cause the water molecules to vibrate rapidly, creating alternating waves of compression and expansion within the water, during the expansion phase, or rarefaction cycle, the liquid is torn apart, creating cavitations bubbles, these bubbles are where ultrasonic cleaning technology is born
How does ultrasonic cleaning machine work?
Cavitations bubbles are vacuum cavities as tiny as red blood cell, or about 8 thousands of a millimeter across, they are so small that it would take 1250 of them lined up in a row to reach 1cm long
Under pressure of continuous vibration, these bubbles stretch and compress at a fast rate, once they reach a certain size, as determined by the frequency and stretch of the sound waves produces, the bubbles lose structural integrity and collapse violently, when these implosions happen near a surface, the bubbles emit high-powered steams of plasma that travel at more that 500 miles per hours and collide with, agitate and remove even very tiny particles and substances from that surface
In an ultrasonic cleaning machine, this happens millions of times per second, but because cavitations bubbles are so small, the process is both highly effective and very gentle, ultrasonic technology can be clean metals, plastics, glass, rubber and ceramics, it effectively removes a wide variety of contaminants, even if present only in trace amounts, including dust, dirty, rust, oil, grease, soot, mold, carbon deposits, polishing compounds, was, pigments, lime scale, bacteria, algae, fungus, fingerprints and biological soil
These contaminants typically are removed even if they are tightly adhered to or embedded onto solid surfaces, or if they are in remote cracks or tiny crevices of an object. For this reason, items usually do not need to be disassembled before being put safely in an ultrasonic cleaning unit
Cleaning solution?
As ultrasonic cleaning technology was developed, it was discovered that if surface tension is reduced, cavitations levels increase, cleaning solutions used with ultrasonic cleaning machines
Contain ingredients specially designed to increase the effectiveness of the process. These are called surfactants and they lower the surface tension of water.
General-use soap solutions: these solutions have a high alkaline content and are designed to remove a number of contaminants from metals, plastics and fabrics, depending on their formulation, soap-based metal cleaners will remove oil, grease, and carbon deposits, those formulated for use with plastic and fabric items won't clean oil-based deposit from these materials
Descaling detergents: are formulated to clean metals laden with corrosion, rust, hard mineral deposits or heat scale. They are designed to help restore parts that have been in service in hard water or high-humidity environments. These solutions are acidic in nature.
Enzyme detergents: Enzymes are used to degrease stainless steel, aluminum, brass and titanium parts, and ca be more effective that general-use soaps when removing oil and grease, they are designed to clean heavily oiled surfaces when an oil-free environment is preferred or required, they also can be used effectively to remove biological contaminants from medical, surgical, dental, and optical tools, enzymes typically consume oil residue and digest it off as carbon dioxide
How Ph cleaners: come in number of formulations and can be helpful in several ultrasonic cleaning application, and protect metals from the effects of chemicals, some of the stronger how pH cleaners many damage certain materials, specifically aluminum, copper, and brass, citric acid solutions are used to passivate stainless steel and titanium by removing the free iron molecules from the surface of the metal to help prevent future corrosion such as rust
Specialty detergents: some solutions are formulated to clean specific contaminations like smoke, soot and certain odors, although these specialty detergents will work very effectively when used in certain application, they can be harmful or ineffective when used outside of their intended use
Some solutions are formulated to clean specific contaminants like smoke, soot and certain odors. Although these specialty detergents will work very effectively when used in certain application, they can be harmful or ineffective when used outside of their intended use.
What should consider on longevity?
Some solutions have a longer lifespan that others, which helps decrease long-term cost, but all solutions have their pros and cons, for example, when removing oil and coolants, users must choose between using an emulsifier solution or separating detergent, and emulsifier holds oil in suspension with in fluid, so it does not last as long, once the solution is saturated with oil, it is no longer effective, a separator can remain effective for up to three months or longer, however, it cleans less effectively and, since oil rises to the surface of the tank, users risk recontaminations during item removal unless filtration systems-overflow weirs or surface spargers-are added to the unit
What should consider on solution disposal?
Most ultrasonic cleaning baths are environmentally friendly and water-based, but depending on the solution used and contaminant removed, various methods of waste disposal may be required, most ultrasonic cleaning baths are 92 percent water and wastewater evaporators will reduce the amount of material required disposal by that amount, these solutions also often can be effectively neutralized or filtered until it can be released into the sewer system safely and legally
Is heating should be considered in solution cleaning?
Solution are often used in combination with heat, which effectively eliminate entrapped air in the water tank, for most applications, a temperature of 50 to 65 degree is effective, however, for some medical applications it is generally accepted that solutions should be used at temperature below 38 degree to prevent protein coagulation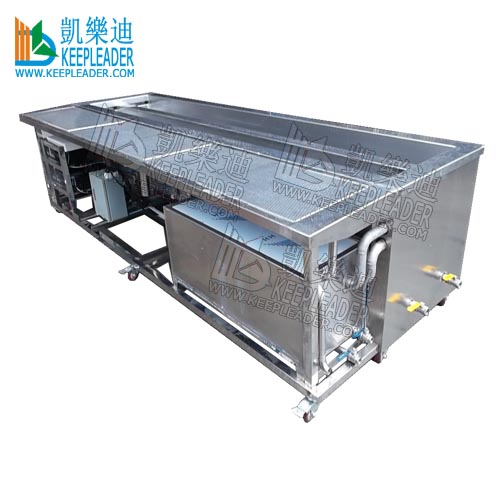 Product uses
---
Contact Us