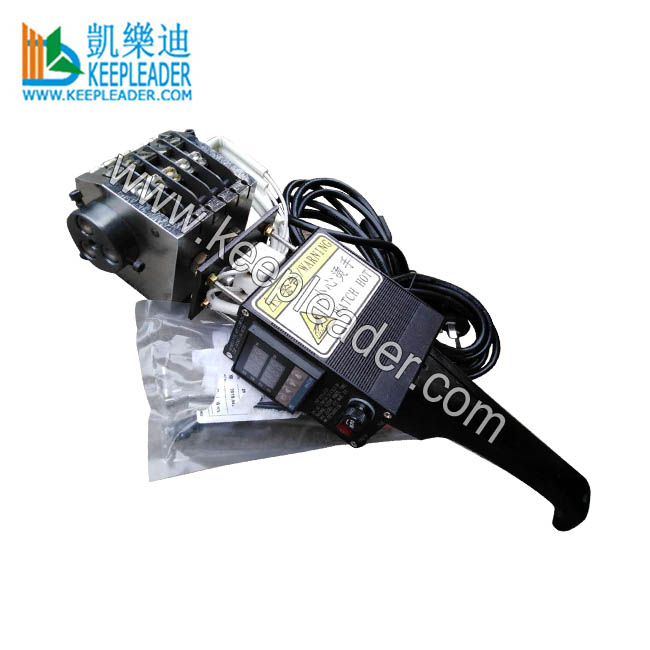 Hand-Held Electric Heated Branding Iron with Rotary Numbering Die used for marking ♦1: Date ♦2: Sequence Numbers♦3: Serial Numbers ♦4: Identified Code

Machine Description
---
01: Parameter
| | |
| --- | --- |
| Model | KLS-500 |
| Heating power | 500w~3000w |
| Imprinting characters | Alphanumeric: 0~9, A~Z, punctuations |
| Character Nos | 10~36pcs / wheel |
| Wheel Nos | 1~15pcs |
| Character size | 3*3, 6*3, 7*5, 8*5, 10*10, 12*10, 15*10, 20*20 |
| Wheel material | Tool steel, Aero aluminum, Brass, Copper, magnesium |
| Shank material | Galvanized |
| Workable material | Rubber, plastic, wood, food, and other non-metallic material |
| Grip | Plastic |
| Auxiliaries | Digital temperature control, dual fuses |
| Gross weight | 3kgs~10kgs |
02: Application
Hand-Held Electric Heated Branding Iron with Rotary Numbering Die is used to mark surfaces for an array of different purposes, most commonly used to identify a product with a certain brand company, rotary dial brander can be used on all types of materials, from wood and plastic to robber and leather
They represent a quick and efficient method for companies to promote their brand on their products, they are also useful when it comes to tracking, and lost goods as the branding logo will automatically inform the public as to the original manufacturer of the goods
03: High lightings
Precision elements wound around a high conductivity core provides consistent die temperature and a long service life
Ultra strong nickel plated wheels can be clamed in a vise for easy maintenance, anodized aluminum case is well insulated treatment and earth wire circuit design, dual fuse mounted for safe operation
Plastic handle ensure a cool grip
Burn resistant, flexible, neoprene power cord
Numbering roller can be supplied blank or engraved to your specification
All major parts (heater, handle and cord) are user replaceable
Three-wire grounded construction
Each to operate (all in one, digital temperature can read, dial the wheels freely)
Affordable (all is made in our owned shop, cost-saving production)
Fast changeover to new wheel (the buyer can order spare wheels for further use)
Numbering roller is hot and ready to use after each changeover
Each of the wheels include the numbers 0~9, a dash, and a blank space
Can be custom designed with your choice of letter, number, and character sequencing
Provide a practical and affordable way to apply serial brands
Compact design keeps every character hot and ready to use
Brand characters in wood, plastic, rubber or any brand able material
04: Rotary serial heads of rotary serial brander
Rotary serial heads are typically used for high volume production marking and where versatility for automatic or manual advance numbering is required to stamp repetitive sequences such as product codes, part numbers date, codes etc, there is virtually no limit to the range of products that can be marked with Rotary serial heads
Rotary serial heads are designed and built to meet your specific serial numbering and sequential part marking requirements, KEEPLEADER' rotary serial heads are available in a variety of different styles and configurations for both numbering and lettering are provide a reliable way to mark serial numbers and other identification on all type of parts
05: Warning notices
Cannot leave this unattended or set it down on anything flammable
The hot steel brander get soft and somewhat pliable you can accidently cause the face to became uneven
Typically an electric rotary dial brander is ready for use about 20~30 minutes after having been switched on, please take notice on the temperature controller, if the read Value of PV and SV are same, the heating temperature is reached its rated
You should keep your serial brander clean, make sure to clean in between uses to extend shelf life
Please take much longer for the brander to cool off that heat up
Don't touch the brander until you are sure it is completely cooled
Don't push too hard, the heat will transfer even with limited pressure, so don't think that pushing on it will make it work better, it will only damage the head over time
Wear safety equipment while working including eye protection, if steam or smoke comes out while you are branding, you want to make sure that you are covered
Don't rush the heating pressure, you don't want to try and use it before it is ready, as that will create sloppy results
Don't submerge electric rotary serial brander in water to cool them off
Never leave the iron in a vertical position as that can damage internal electronics and will result in the handle getting hot
Because the branding surface have not 100% uniform surface, somewhat weaken print, please rock the brander slightly to get uniform pressure
If you have not practical experience on branding temperature, please set the temperature 200+ for rubber, 300+ for wood, add little by little to get perfect branding effect
Bramding Die
---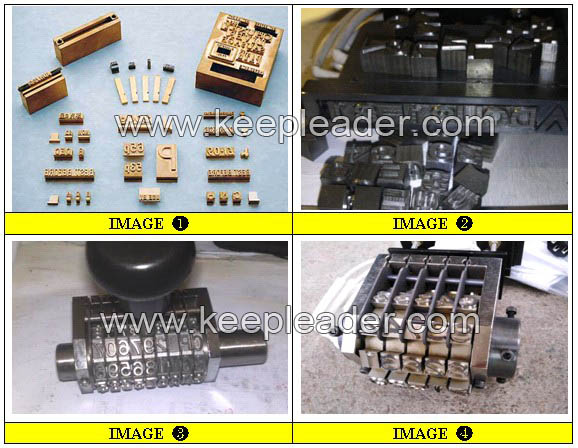 Hand-Held Electric Heated Branding Iron with Rotary Numbering Die can have Customized ♦1: Number/lettter wheels/disks ♦2: Character Size ♦3: Single Line or Dual Lines branding ♦4: T-slotted changeable numbers

Machine Uses
---
u Special notice
01:The machine has earth wire and dual fuse, please use it correctly
02:Power supply must comply with tool
03:Keep the tire brander dry, don't use it in humidity environment
04:Must leave 0.5m space when using the tire brander
05:Cannot rebuild the tire brander, open the power box and heating couples
06:Must cut off the main power supply after using the machine
07:Please change the new heating tube once have defected heating function
08:Please contact manufacturer if need to change the heating tube
09: Cannot use the tire brander over 8 hours
10: If have any residues or detained material on numbering roller, please clean it immediately
11: Please lubricate the numbering roller to improve its longevity
u heating temperature reference
| | |
| --- | --- |
| Material | Temperature range |
| Tire | 280---310 |
| Carton | 450---480 |
| Wooden | 380---430 |
| Leather | 80----120 |
u Warning notice in operation and maintenance
What you should do
Make sure that your surface is clean and dry, if it is wet, then that will result in an inferior brand
Wear safety equipment while working, including eye protection, if steam or smoke comes out while you are branding your want to make sure that you are covered, also cannot let any untrained or Children stay around the working site, you may accidently somewhat burn them
Always leave your brand in a horizontal position, this will ensure that the handle stays cooler that the head, also cannot let the banding die heated point to any person, which is danger
Don't rush the heating process, whether its is manual or electric brand, you don't want to try and use it because it is ready, as they will create sloppy results
If you are using an electric brand, make sure that you give it time to get back to temp in between brands
With electric branders, make sure that the head is not too big for the heating elements, as this will result in uneven brands
Make sure to hold the iron steadily and apply adequate pressure to the whole head, also, experiment with how long you should keep the brand applied for different material, if you do it for too long, then it will start to bleed, if it is too short, however, then you risk not getting a permanent brand
What not to do:
Don't submerge electric brands in water to cool them off
Never leave the iron in a vertical position as that can damage internal components and will result in the handle hot
Don't push too hard, the heat will transfer even with limited pressure, so don't think that pushing on it will make it work better, it will only damage the head over time
Never hot the iron on the side of table to knock debric off
Don't leave it heating for too long, as it can damage the metal or lead to warping if it go too hot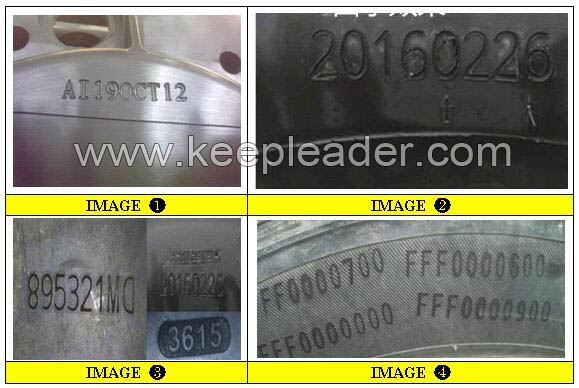 Hand-Held Electric Heated Branding Iron with Rotary Numbering Die can mark tire ♦1: Date ♦2: Serial Number ♦3: Idenfitied code

Rotary Numbering Die
---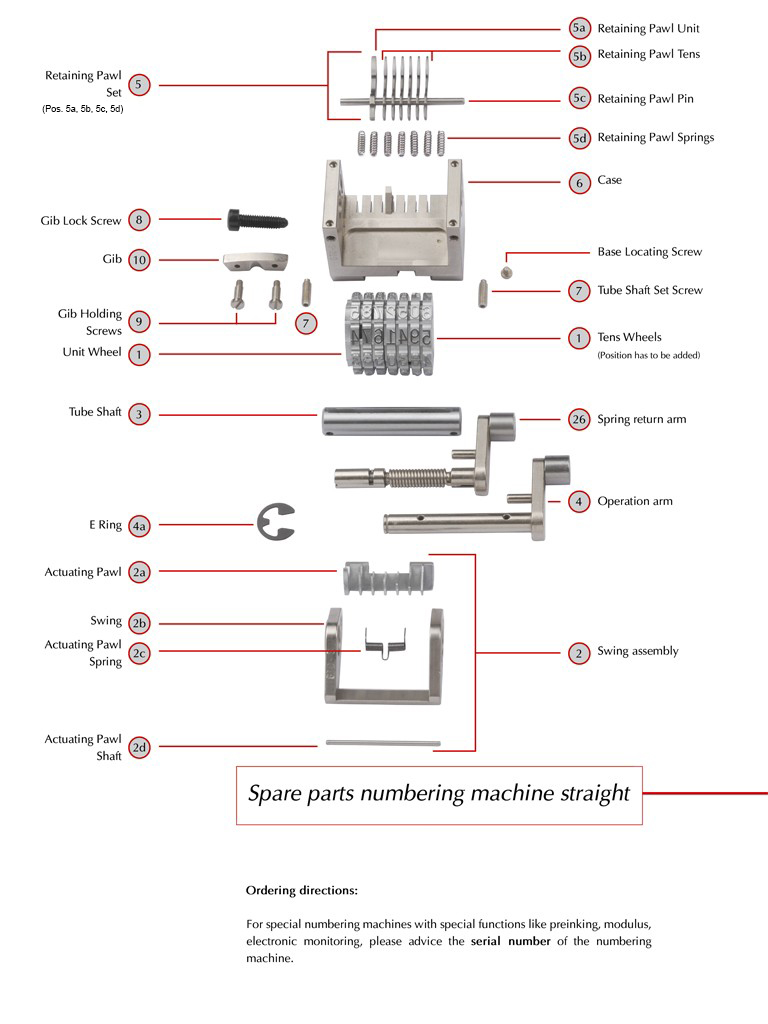 Please confirm ♦1: How many disks/wheels do you need? ♦2: Character Size ♦3: What Characters do you want and how to arrange them? for Hand-Held Electric Heated Branding Iron with Rotary Numbering Die
FAQ
---
Question before ordering?
Below is a list of answer to common questions about various topics, KEEPLEADER hops you find the information you are seeking, if you have any further questions, please contact customer support via email
01: What forms of payment do you accept?
We accept all major credit cards using our secure on line processing, you may also pay to our official account, please mail your payment along with printed copy of your invoice to the address provided
02: How do I place an order for a custom rotary serial brander?
For custom rotary serial brander quote, please send an email or on line messenger, please also include a sketch or artwork of the alphanumeric characters you would like quoted, as well as the font size of each wheel, the wheel contents consisted by number: 0~9, symbols and letters: A~Z under requested, your logo, legendary and any multiple characters can incorporate into your serial brander
02: How do know I placed my order successfully
Once you have submitted your order on line, an order summary will be displayed with all of order details, you many to print for your records, if you pay to our official account, please send us copy invoice of your payment, we will send a confirmation by email to start production
03: How long will it take to receive my order?
We do not stock any products, all of our rotary serial branders are make on demand, orders are put into our production schedule in the order they are received, please allow 4~6 weeks production time, and an additional 5~10 days foir shipping
04: How does KEEPLEADER calculate shipping and handing charges?
Shipping & handing cost calculations are based on the total weight and package dimension of all item packed, you will see the exact shipping charges during the checkout process, before your purchase is finalized.
05: Can I change or cancel my order after I have submitted it?
If you realize you made a mistake, or simply change your mind about your order, please call or email our customer support department as soon as possible, if the material is not cut, we can accept modification, otherwise, you need to pay the advanced expense
06: Can I have my purchase shipped by our carrier or third party?
Yes, KEEPLEADER accepts third parts or nominated carrier
Buying Guides
---
01: Introduction
011: Branding equipment
Branding is possibly the most practical and economical way to permanently mark almost any material other than metal or glass, fine furniture and other works of art are frequently branded to advertise a trademark, logo, or manufacturer's name or to sign or individualize a craftsman's work, branding is also used to identify tools or equipment for personal or security purposes
Material suitable for branding include cork, chamois, leather, plastic, paper, rubber, wood, particle board and wallboard, even meats and cheese, keepleader's branding irons have been used for branding barrels, batteries, boxes, brooms, crates, ladders, lumbers, pallets, plastic parts, rubber gloves, telephone poles, tires, tool handles, wooden furniture, particle board, and myriad of other objects
012: Branding Dies
Branding die are fully customizable, leverage our expertise to select the right style and material for your unique application, keepleader offer IPPC heat treat dies, dies to automatic branders, dies for handheld branders, and individual characters and type, excelsior dies are manufactured in steel or magnesium, brass, aero aluminum alloy, whichever composition is best for your job
What's more, keepleader's branding dies will save your time and money, keepleader's sharp face dies are engineered so that the surface of the design comes to a point which marks your product faster that a traditional surface die, your branding process becomes more efficient and that helps the bottom line, and for pallet and wood packaging companies, excelsior branding dies efficiently and effective mark their products while meeting the requirements of regulated
Always looking to enhance your experience and ease the process, excelsior has introduced a new thin branding die, this new die will heat faster and allow the user to lower the temperature on their branding head, extending the life of the heating elements, keepleader has been able to low the temperature as much as 200 degree on an automatic branding unit
014: Branding irons
Excelsior supplies a great variety of branding irons, from electric to propane and hand-held to drill press the options are virtually limitless, keepleader also offer rotary serial number irons, slotted heads, auxiliary handles, interchangeable characters and more, the options can be overwhelming, but keepleader's experts are happy to help you choose the best solution for your application
02: Quality control and warranty
Keepleader warrants its line of branding and hot branding equipment to be free of defects in material, and workmanship, our liability under its warranty is limited to 90 days from the date of shipment, claims not made in writing with such period are waived, warranty does not extend to parts damaged after date of shipment from keepleader's plant when the damage is not directly due to defect in material or workmanship, not does it apply to goods altered or repaired by anyone other than keepleader authorized employees, nor goods furnished by buyer or acquired at buyer's request and/ or to buyers specifications, in one event shall keepleader be liable for labor or consequential damages. There is not implied warranty by keepleader for fitness of purpose
For a warranty claim to be considered, buyer must contact keepleader for return of product for inspection, all returns must have keepleader's approval prior to return, any item that has been used, along with all custom make branding tools and branding heads are non-refundable
Before you order, please provide your artwork and its size, or its description, or its sketch, keepleader will strictly comply with your demanding, somewhat unconfirmed is not regarded as a part of contract, as am aspect for warranty claim. That's to say any personalized, custom branding die must be confirmed as sales contract
After-Sales Service
---
01: Return & Exchanges
KEEPLEADER doesn't accept returns, exchanges or cancellations
But, please contact KEEPLEADER customer department staffs if you have any problems with your order
Returns and exchange details
Some items have specific stipulations concerning refunds and returns, which are explicitly made in the listing, all custom-made or personalized orders are non-returnable with exceptions made for defects in workmanship or materials', shipping is non-refundable
In the unlikely event that something is damaged in shipping, send it back, keepleader will repair or send the corresponding parts for replacement, but, the delivery cost will charged to the buyer, needless to say, contact keepleader "first" so, keepleader will be aware that there is been a problem
02: Warranty
No one warrants custom rotary serial brander, except keepleader, your rotary serial brander is warranted against defects in material and workmanship for six months after the purchase date, this does not include damage or wear resulting from physical trauma (it got dropped/thrown/melted wire and plastic grip), misuse or wear that is caused from normal use, as if that weren't awesome enough, if your rotary serial brander is damaged in a way that isn't covered under warranty, keepleader can usually repair or replace the damage components at a reasonable cost
Please be aware that disassembly of modification of rotary serial brander will void the warranty, if your rotary serial brander requires service, please contact keepleader
03: Shipping policies
Keepleader ship the rotary serial brander by DHL, UPS, TNT or other international express carrier, international buyer can expect to pay a bit more (contact keepleader to find out how many, since it varies)
04: Miscellaneous for international customers
Any VAT, duties, customs fees, or import restrictions are your responsibility; keepleader doesn't know what, if any, fees your government will require you to pay. Keepleader declares the value of your purchase to be the actual purchase price, minus the shipping cost
Contact Us
---
More information of Hand-Held Electric Heated Branding Iron with Rotary Numbering Die, Pls contact KEEPLEADER
☺ Attn:Ms Helen
✉ E-mail: sales@keepleader.com
☎ Cellphone/Wechat/Whatsapp:+86 13590415784
☎ Tel: +86 755 84190358
☞ Website: www.keepleader.com