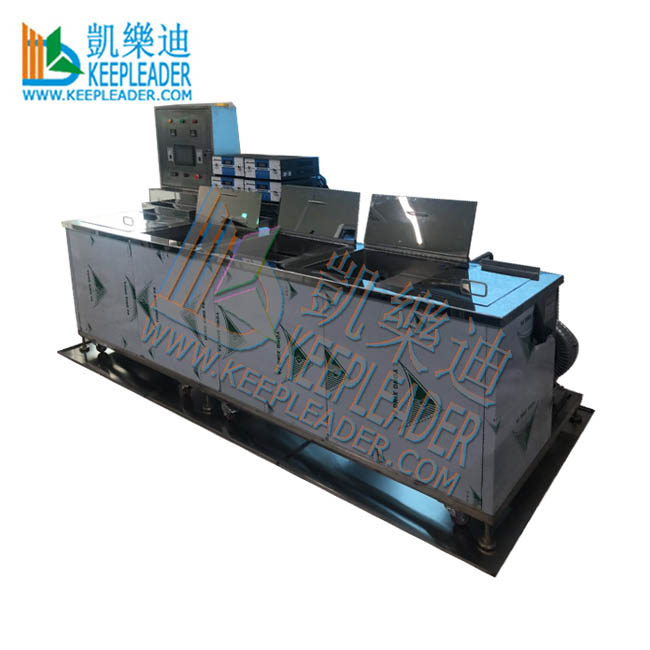 Multiple Tank Industrial Ultrasonic Cleaning Machine for Electronic Parts has function of ♦1: Dual Ultrasonic cleaning ♦2:Dural Rinsing ♦3:Hot Air Drying ♦4: Filter Circulation ♦5: Intermittent oscillation

Machine Description
---
Multiple Tank Industrial Ultrasonic Cleaning Machine for Electronic Parts

01: Parameter
| | |
| --- | --- |
| Model | KLE-5024 |
| Ultrasonic frequency | 40khz |
| Ultrasonic power | 2400w |
| Input power | 220VAC,60hz, or 380VAC, 50hz |
| Tank material | 304 stainless steel |
| Tank inside dimension | 400*600*600mm |
| Tanks liquid dimension | 400*600*500mm |
| Basket size | 300*500*500mm |
| Fluid Operating temperature | 50~175 degree F |
| Filter Cartridge flow rate | Up to 5GPM |
| Filter cartridge size | Single 10", 10 micron |
| External Dimension | 5000*1300*1400mm |
| Gross weight | 800kgs |
02: Application
Multiple Tank Industrial Ultrasonic Cleaning Machine for Electronic Parts is suitable for most five steps processing requirements inprecision parts, electronic components, power circuit board, electroniccomponents, surgical device, in five steps, the machine can have customizedconfiguration: Ultrasonic cleaning, rinsing, hot air drying, is deal forapplications that require zero-residue cleaning results and parts drying,
03: Tank details
Tank #1-2 are ultrasonic cleaning tanksusing two ultrasonic frequency generators with two changeable ultrasonicvibrators pad mount at two sides, tank has a weir flow system which utilizes adiverter bar and filtration pump along with a belt skimmer to improveefficiency of overall system, tank is heated using two heating elements, withfloat switch's to ensure water level is correct for safe operation, each tankalso have separated filter circulation system and heating function
Tank #3-4 is dual-stage heated rinse tank,tank has a weir flow system which utilizes a diverter bar and filtration pumpalong with a belt skimmer to improve efficiency of overall system, tanks areheated using two heating elements per tank, with float switch to ensure waterlevel is correct for safe operation of heaters and filtration system, Tank #3-4 has an Auto-Fill valve tomaintain correct water level in tank. Tank also has rinsing basket and coverfor optimum performance.
Tank #5 is a forced hot air drying tank with integral duction and electricheat with blower package, tanks also have cover to assist in drying process
04: Machine process
Step 1: Ultrasonic cleaning with weir, oil removal Filtration andintermittent oscillation
Step 2: Ultrasonic cleaning with weir, oil removal filtration andintermittent oscillation
Step 3: Rinsing with Weir, oil removal filtration
Step 4: Rinsing with Weir, oil removal filtration
Step 4: Hot Drying
05: Character:
Eachtank of 2pcs ultrasonic cleaning and 2pcs rinsing has dripping platform
3-colorlight tower to indicate operating condition of system from a distance
PLCcontrol system on operation panel
5pcscleaning basket complied with working load
15kgsload capacity
Eachtank has filter circulation system to complete a whole recirculation and drainout the dirty liquid separately to avoid secondary contamination
Intermittentoscillation systems to oscillate parts during ultrasonic cleaning or rinsingcycles
Internallymounted components for cleaning exterior appearance
Easilyaccessible components facilitate maintenance operations
Tanks are fabricated using stainless steelfor superior corrosion resistance.
In addition, ball valves are used on drainand fill ports to facilitate the manipulation of liquids used duringprocessing.
06: Optional Equipment
Pump-Drain systems to pump liquids tooverhead waste or other location
Rinse water quality maintenance system
Ultrasonic rinse systems
Oil Skimmers
Spray rinse wand
Waste water evaporators
Closed-loop deionization systems
Machine Uses
---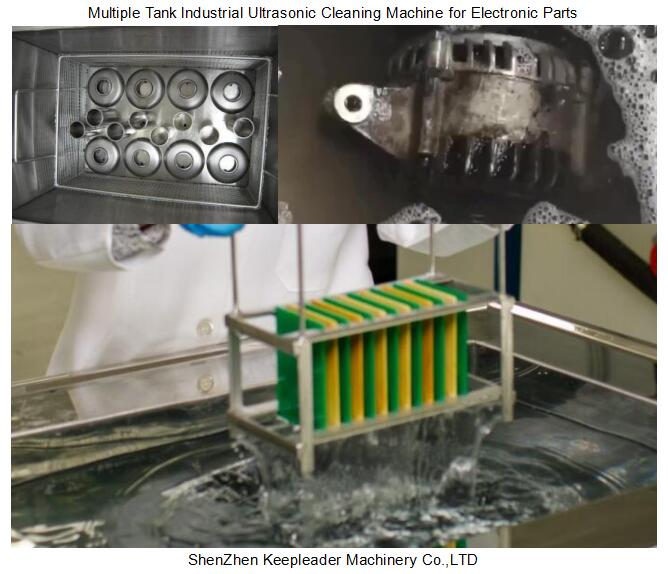 Multiple Tank Industrial Ultrasonic Cleaning Machine for Electronic Parts has specified construction of tailored dimensional capacity and functional configuration to gratify individual cleaning process and purchasing budget

Detailed Images
---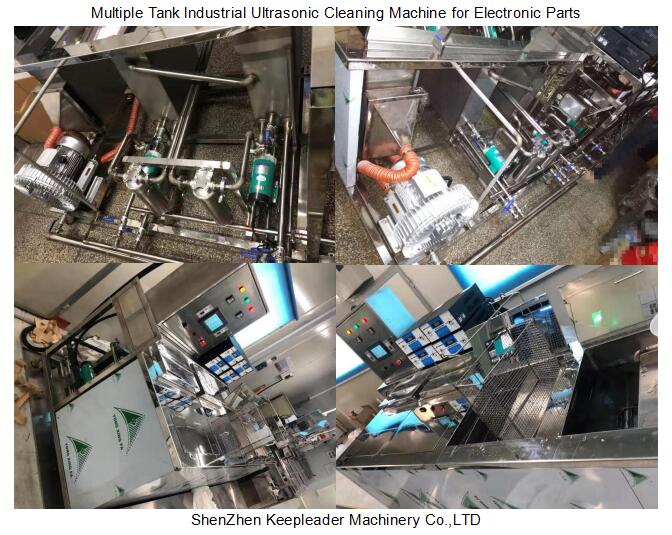 Multiple Tank Industrial Ultrasonic Cleaning Machine for Electronic Parts has five tanks of configuration: ultrasonic cleaning_Rinsing_Hot Air drying_Intermittent oscillation_Filter Circulation
Functional Advantages
---
Multiple Tank industrial ultrasonic cleaning machine has Ultrasonic cleaning, ultrasonic rinsing and hot air drying, the whole process combined with dynamic flow combination, which is better coverage of component surfaces (minimizing standing waves and/or part shadowing) producing more consistent results and accelerated processing times, keepleader ultrasonic cleaning technology is offered in different sizes, weight capacities, and configurations (including automation) to accommodate a wide variety of applications
Spray cleaning and rinsing
Combining platform oscillation with solution spraying under immersion, results in constantly changing flow patterns, keepleader spraying systems are proven to accelerate processing time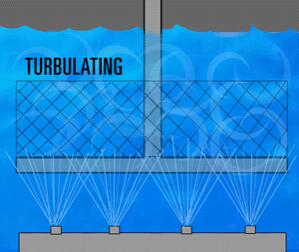 Ultrasonic cleaning and rinsing
Using platform oscillation to gently move parts throughout the ultrasonic working zone provides a superior cleaning action over conventional systems by moving the work through the peaks and nodes of the wave energy, ultrasonic cycles are sequenced with spraying cycles to further accelerate the process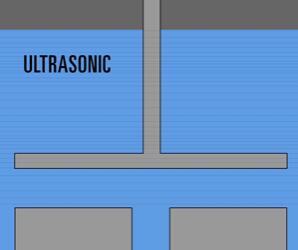 Hot air knife drying
Using high volume hot air combined with changing air flow patterns created by the oscillating elevator provides accelerated drying cycles without excessive heating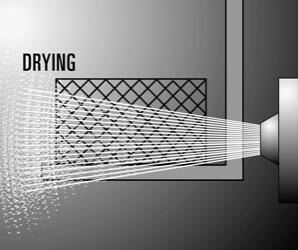 Contact Us
---
Fore More information of Multiple Tank Industrial Ultrasonic Cleaning Machine for Electronic Parts, Please contact KEEPLEADER
☺ Attn:Ms Helen
✉ E-mail:sales@keepleader.com
☎ Cellphone/Wechat/Whatsapp:+86 13590415784
☎ Tel:+86 755 84190358
☞ Website:www.keepleader.com