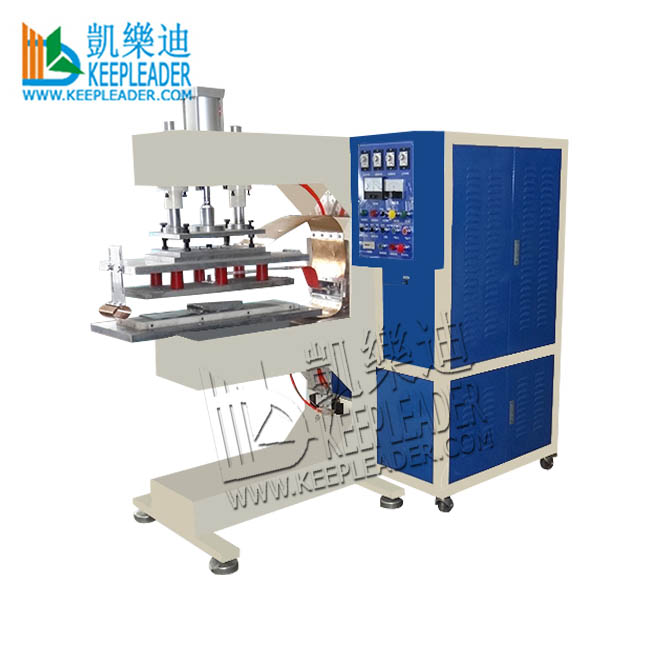 Treadmill Belt Joint Welding High Frequency Welding Machine has 8kw~25kw for various welding size, please confirm your welding width in maximum
Machine Description
---
Treadmill Belt Joint Welding High Frequency Welding Machine
01: Application
Treadmill Belt Joint Welding High Frequency Welding Machine is specially designed HF welder for profiles welding in treadmill belt, treadmill belt splice joint sealing, treadmill belt splicing finger sealing, conveyor belt, industrial belt, transmission belt, T-cleats, L-Cleats, belt skirt, v-guide, belt baffles and other cleats, made of TPE, PU, PVC and other thermoplastic
02: Advantages
Treadmill Belt Joint Welding High frequency (HF) welding process, also known is Treadmill Belt radio frequency (RF) and Treadmill Belt dielectric welding, consist of amalgamation of Treadmill Belt by supplying HF energy in the form of an electromagnetic field 27.12Mhz and 13.56MHz which is normally applied between two metal electrodes, plates or moulds, Treadmill Belt HF welding is accompanied with certain pressure on the Treadmill Belt surfaces to be joined, for this purpose, HF welding machine are constructed
Treadmill Belt HF welding replies on certain properties of the Treadmill Belt being welded to cause the generation of heat in rapidly alternating electric field, so called dielectric heating of the Treadmill Belt to be welded, this means that only certain Treadmill Belt to be welded using this technique, the dynamic electric field causes the molecules in polar thermoplastics to oscillate, depending on their geometry and dipole moment, these molecules may translate some of this oscillatory motion into thermal energy and cause heating of the Treadmill Belt, a measure of this interaction is the loss factor, which is temperature and frequency dependent
Treadmill Belt Joint Welding High Frequency Welding machine utilizes high frequency electromagnetic field to make internal molecular of treadmill belt rearrange, the effect of belt welding is beautify and robust, and, the tear stretching of welding is close or stronger to the strength of raw material
03: Parameter
Treadmill Belt Joint Welding High Frequency Welding Machine

Model

KLR-8KWC

KLR-15KWC

KLR-25KWC

HF Power

8000W

15000W

25000W

Power supply

380v,3 phase (optional:220v,60hz,3 phase)

HF Frequency

27.12MHz

13.56MHz

Electronic power

20KVA

25KVA

40KVA

Rectifier

Silicon Diode

Electronic Tube

E3069RB

BT85RB

8T25RB

Max pressure

400kg

600kg

1000kgs

Electrode gap

200mm

Active Horn

200mm

Upper Electrode

400*150mm

700*250mm

1000*300mm

Down electrode

500*150mm

800*250mm

1100*300mm

Temperature scale

adjustable :30~200

Welding Time

Adjustable: 0~10s

Productivity

<=5000times/8h

Dimension (mm)

1920*1200*2060

2650*2550*2240

2850*2550*2440
04: Character
Material groove is deep and wide, is convenient to weld large size
Built-in High Sensitive spark protect device to avoid damaging the electrode
Welding length can be extended to 1300mm or longer for on cycle
Stable HF: international industrial band is 27.12MHZ or 13.56MHZ
Strong output: Low-consumption coaxial oscillator, coherent tuner, strong output force to shorten welding time and increase production
Quick change tooling: reduce downtime during tooling changeover
Welding size is changeable by custom electrode and fixture in variety
Precision HF tuner in controlled by different welding shape, material & its thickness, and size
High sensitive anti-spark device to protect the welding electrode and products
Reinforced frame: stable and durable
Over-current protection power circuit for safe operation
Product Uses
---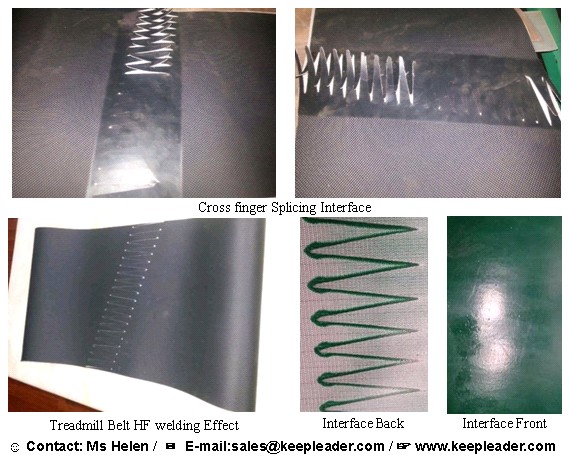 Treadmill Belt Joint Welding High Frequency Welding Machine can not only weld treadmill but also can weld conveyor belt, transmission belt and other industrial belt
Overview
---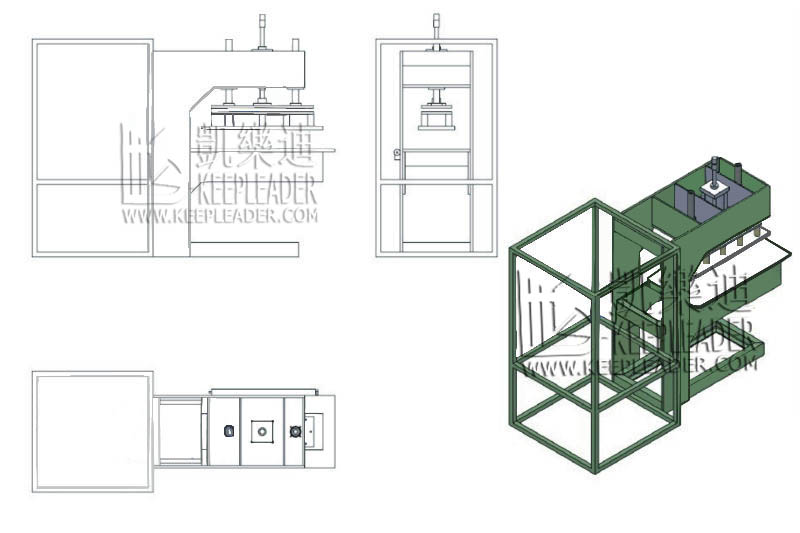 Treadmill Belt Joint Welding High Frequency Welding Machine is popular for single side, also can make dual sides in operation for mass production
Technial Support
---
01: Advantage of high frequency (HF) welding machine
The great advantage of HF welding is the speed of welding: the material is heated form the inside and fuse quickly within few seconds, in comparison with HF or RF, in all other kinds of welding methods (with filaments, hot air or infrared radiation) the heat has to be added from the outside, it means the heat must first penetrate the material in order to make it plastic enough to form a weld, the main risk of this kind of treatment is burning the top layer of welded material
A high frequency voltage trigger the heating within the material, no extrinsic warming applied, generated heat causes melting of materials and their integration, after cooling the welded surface under maintained pressure, the material is fused and a weld has been created, the weld joint can be at least as strong as the surrounding material or even stronger
02: What factors contribute to a good weld?
Typical plastic High Frequency (HF) welding HF welds consist of a high frequency generator (which creates the radio frequency current), a pneumatic press, an electrode that transfers the radio frequency current to the material that is being welded and a welding bench that holds the material in place, many factors affect the strength and seal quality in HF/RF welding, tooling layout, welding thickness, material thickness, and machine control are some of the most important factors in creating a good seal, the appeal of HF/RF welding is in the completeness of the weld, using this method can create very robust hermetic seals, many welds are subject to pull tests, leak tests, and optical tests to determine that the correct conditions have been achieved
03: Final products done with HF welding
Common products manufactured with HF welding method are tarpaulins, tents, advertising outdoor banners, stretch ceiling. Waterbeds, inflatable products, Medical bags, tensile structures, conveyor belts, rain clothing, plastic blister packages, and other thermoplastic membranes
04: What materials can be welded by high frequency (HF/RF welder)?
The material most common in high frequency welding (HF/RF welds) in PVC (something called simply vinyl) and PU (polyurethane), the material can be thick or thin, reinforced or coated, it can also be plain, colored or structure/patterned
PVC and PU (polyurethanes are the most common thermoplastic that are available in HF welds, it is also possible to perform HF welding on other types of material including nylon, PA, ABS, modified TOP, PETG, but particular attention should be pay on working parameters, HF welding is mot suitable for PTFE, polycarbonate, polystyrene, polyethylene or polypropylene. However, a special type of mixed fabrics have been produced recently, which have the capability to be HF welds high frequency welding
Contact Us
---
We welcome the opportunity to explain every last details and all of the options available in fact, and. won't waste your time and ours, our goal is to educate our potential customers and let them make an informed decision, please contact KEEPLEADER for more info of Treadmill Belt Joint Welding High Frequency Welding Machine
☺ Attn: Ms Helen
✉ E-mail: sales@keepleader.com
☎ Cellphone/Whatsapp: +86 13590415784
☎ Tel: +86 755 84190358
☞ Website: www.keepleader.com / www.hfwelds.com