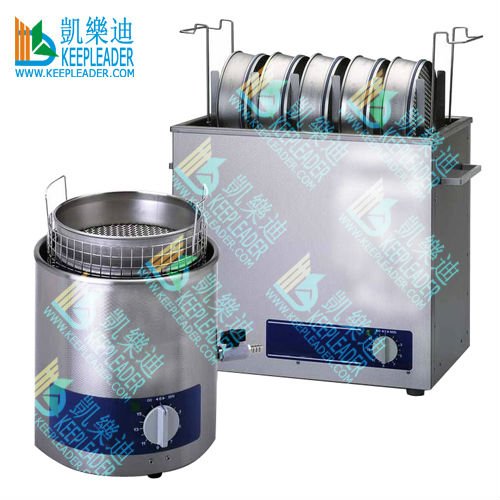 Test Sieve Ultrasonic Bath Cleaners take reliability in dislodging fine particles that a brush cannot remove, Test Sieve Ultrasonic Bath Cleaners are specially designed to provide a safe and effective means for cleaning test sieves, the compact and portable standard unit operates on 110v or 220v, 50/60, the unit require little, if any, maintenance, the cleaner produces ultrasonic vibrations in a cleaning fluid bath, which cause contaminants to become dislodged from both the sieve frame and media, vibrations up to 40khz are transmitted to the cleaning solution, cleaning times range from 5~15 minutes, the unit has tailored internal size of cleaning tank for versatile sieves cleaning

Product description
---
Test Sieve Ultrasonic Bath Cleaners

1: Parameter
| | |
| --- | --- |
| Application | Cleaning, dispersion, degassing |
| Feed material | Sieves, glass and metal components, suspensions |
| Model | KLE-1036 |
| Ultrasonic Frequency | 28KHZ/40KHZ |
| Liner materials, | stamping stainless steel tank SUS304 |
| Capacity | 200L |
| time control | mechanical control 1 to 30 minutes |
| Power | AC: 100 ~ 120 V, 50 / 60 Hz |
| Ultrasonic power | 1800 W,36pcs vibrator |
| Heating power | 1800w |
| Liner size | 600*600*500mm(L*W*H) |
| Dimensions | 720*700*800mm(L*W*H) |
| Package Size | 750 *730 *1100mm(L*W*H) |
02: Introduction
Test Sieve Ultrasonic Bath Cleaners are customized size for cleaning test sieves and grinding tools quickly and easily, this model can adapt size 200mm or 450mm diameter, the gentle yet thorough cleaning of test sieves in an ultrasonic bath increases their working lives as damage which could occur during manual cleaning avoided
03: Function principle
A high-frequency generator in the ultrasonic bath produces about 35000 oscillations per second, which are transferred into the cleaning solution and cause it to resonate, the energy density of the sound field is so high that a cavitation effect set in, innumerable extremely small vacuum bubbles develop in the ultrasonic bath and collapse in microseconds due to pressure and suction, the pulses triggered by this remove dirty particles even at the deepest, least accessible places or they result in homogenization, dispersion and degassing
04: Highlights
Fast, gentle and highly efficient cleaning
Universal and compact
Easy to use, save time and cost
Intensive dispersion and degassing
Low maintenance
Long life
Company overview
---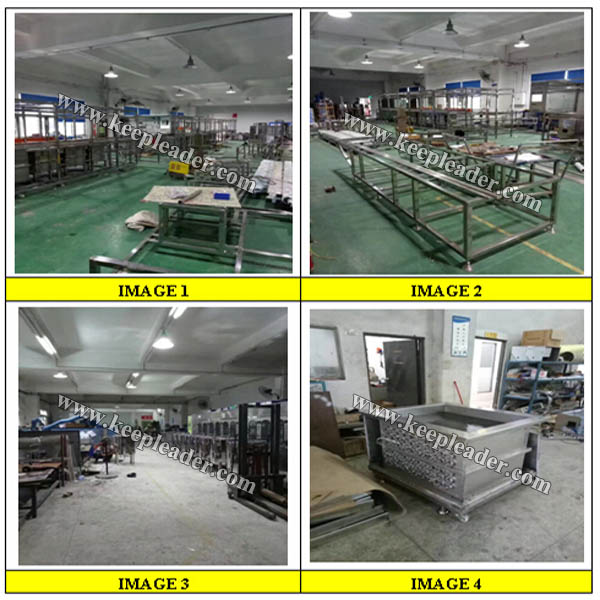 Test Sieve Ultrasonic Bath Cleaners obtain credibility in sieve residue particles dislodging because of their salient advantages, such as fast, gentle and highly efficient cleaning; universal and compact to save the space and cost; easy to use, saves time and cost without manual interruption; intensive dispersion and degassing; low maintenance and long life

Product uses
---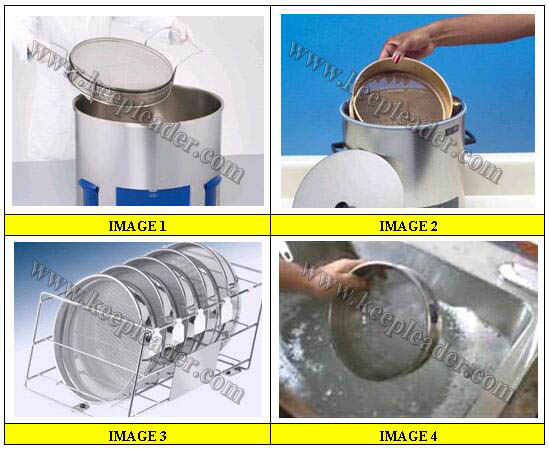 Test Sieve Ultrasonic Bath Cleaners comprise ultrasonic agitation bath, ultrasonic vibrators pack and ultrasonic generator, a high frequency generator in the ultrasonic bath produces about 40000 oscillation per seconds, which are transferred into the cleaning solution and cause it to resonate, the energy density of the sound field is so high that a cavitation effect sets in, innumerable extremely small vacuum bubbles develop in the ultrasonic bath and collapse in microseconds due to expand pressure and contract suction, the pulses triggered by this remove dirty particles even at the deepest internals of test sieves, least accessible places or they result in homogenization, dispersion and degassing, that is reliable performance in ultrasonic aqueous cleaning with detergent/solvent

FRQ
---
Q: Are you a dealer or manufacturer?
Ans: KEEPLEADER is a professional supplier of design, building, and marking in cleaning field
Q: What payment do you accept?
Ans: For first order, we accept 100% T/T before shipment, for repeated orders, we accept 50% advance, 40% before delivery, 10% after receiving
Q: Can we get sample machine?
Ans: KEEPLEADER only provide sample machine with updated design for our long-term cooperators, for first order or cooperation, KEEPLEADER can provide all of technical assistance for confirmation before ordering
Q: Can we print our own brand or logo?
Ans: Yes, KEEPLEADER accepts OEM order and customized design, configuration
Q: What certification does this machine have?
Ans: CE
Q: Is my own forwarder available to transport the machine for me
Ans: Yes, KEEPLEADER accept nominated forwarder, or third part to arrange the shipment
Contact Us
---
Test Sieve Ultrasonic Bath Cleaners adopt ultrasonic vibrating to rub mesh and frame of sieve in dislodging the residue particles of molecular scale, that not only increases the lifetime of test sieves, is it especially recommended for small apertures, for reliable results, cleaning is recommended after each analysis, keepleader, we can provide you with one-stop service upon your test sieves cleaning application, don't hesitate to contact us to find more we can do for you